This shop has been compensated by Collective Bias, Inc. and Conagra Brands. All opinions are mine alone. #ServeUpSummer #CollectiveBias
Let's great ready to party for the summer! It's all about outdoor entertaining and its time to get the party started!. It's my favorite time of year to serve up some yummy & unique food and enjoy the company of family and friends. And these Turkey Taco Bites made with RO*TEL® tomatoes are just what you need.
Every year, our friends throw a "party by the pond."  It's not at a local park, it's in their back yard. they have  beautiful pond and waterfall feature in their yard and it's the perfect spot to hold a party.
The "party by the pond" is an event thorough our Wine Club. I look forward to it every year since it's a blast to hang out with friends but also a chance to enjoy the tranquility of their yard and pond.
It may be a wine club, but the food is equally important. The appetizers made and brought by club members always shine bright. And, each time, I need to make something equally spectacular.
So, I headed to my local Walmart to find some ingredients to make an amazing appetizer.  I love a spicy appetizer so that's where RO*TEL comes in. They have a variety for everyone's tastebuds. I was pleased to see they also have a "no salt added" variety too since we older folks need to watch that!
If you're looking for some RO*TEL head to the canned tomato area of Walmart. They are right there and you can grab one or more to make your next appetizer amazing.
This time, I went for some mini muffin tin appetizers. Wine Club usually has about 50 or so folks show up, so I had to make sure I made enough so whoever wanted one could grab one.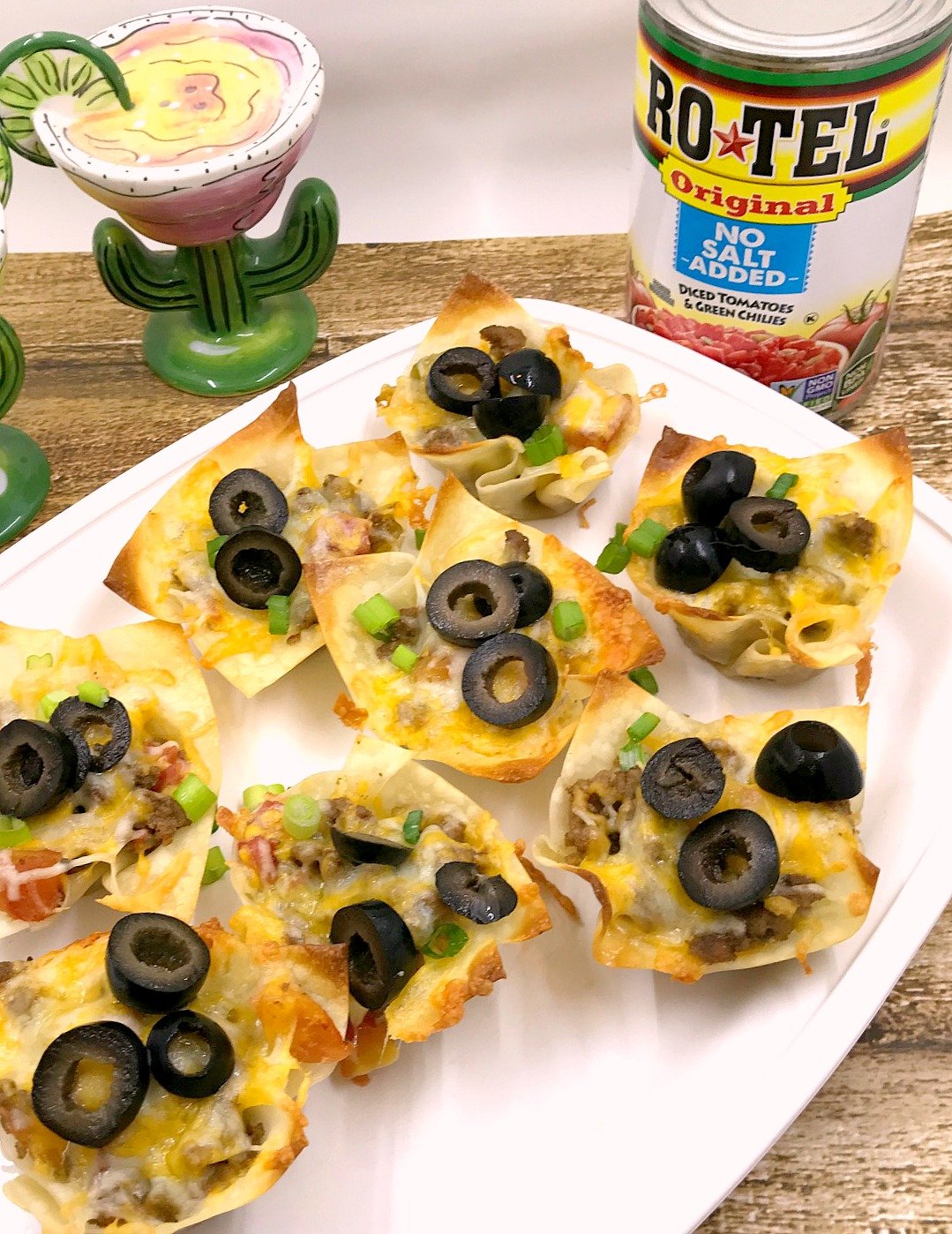 Looking to use RO*TEL for your summer parties? Hover over the photo to click through to Walmart.com and buy it now!
________________________________
Savory Turkey Mini Taco Cup Appetizer
Print recipe
Ingredients
1 tablespoon olive oil
1 1/2lb lean ground turkey
1-2 can RO*TEL tomatoes, no salt added
24 won ton wraps
mexican style cheese
black olives
scallions
mangoes (chopped smal)
avocado (chopped small)
crushed red pepper (to taste)
Directions
Step 1
Pre-heat oven to 350 degrees
Step 2
Heat a large skillet over medium heat. Add olive oil and turkey. Chop up turkey while it cooks so it crumbles into smaller pieces.
Step 3
Turn off heat and drain turkey of any excess liquid. Put turkey into a bowl. Add the drained RO*TEL tomatoes and mix.
Step 4
Spray the muffin tin cups with cooking spray. Fold the wonton wrappers into the cups of the muffin tin. Using a melon baller, add an equal amount of meat mix to the won tons. Top with an equal amount of cheese.
Step 5
Bake in oven, uncovered for 25 minutes. While they're baking, mix the chopped mangoes, avocado and lime juice. Season with crushed red pepper (if desired).
Step 6
When the cups are done, sprinkle with the olives and scallions. Serve with the mango mix sprinkled on top as well or on the side as a garnish.
________________________________
These little turkey taco bites were a HIT for the wine club party. They were gobbled up quickly and the feedback I received was very positive. Who doesn't want a little bite sized gem of spicy goodness at an outdoor summer party? I'll make these again!
Visit Conagra to find more summer cookout inspiration, recipes and more. What would use make with RO*TEL?