Growing up, I HATED brussels sprouts. The shape of them, the smell, the taste…. EEEWWWW!!! My mom wasn't a fan either so it's not like we HAD to eat them for dinner. My co-worker cooks them at work frequently and I usually leave the room. Just what are brussesl sprouts? Some green thing I said I would never touch, ever!
Then I met SheRie. And it all changed.
SheRie does the cooking at our church and she has some delicious recipes she has shared with us for our Wednesday night dinners, Sunday breakfasts and other special events. Well, one day, she decided to have a cooking class and I signed up right away. I really wanted to learn some of her recipes and I was so excited. The night comes and we gather at church and the menu for the class was Salmon, couscous, baked brussels sprouts and pumpkin cake.  No…. wait… did she just say baked brussels sprouts???  Oh boy…. This was going to get interesting.
She cooked them up and I figured I'd give it a taste. After all, will one of those green things kill me? No. So I ate one……. And I could not believe my taste buds. They were AWESOME!!! Wow, after so many years (and I won't tell you how many), I became a brussels sprout convert.
She gave us all the recipe and I decided to make them for hubby. He was very skeptical about this since he wasn't much of a fan of the sprouts so he had me fix him an ear of corn the same night… just in case.  I made a change or two, mostly adding the apples. What was his opinion? You'll have to keep reading to find out.
_______________________________________________
Roasted Brussels Sprouts with Bacon and Fuji Apples
Print recipe
Ingredients
1lb fresh brussels sprouts
1 tablespoon extra virgin olive oil
5 Strips bacon (cooked and roughly chopped)
1/4 Medium red onion (chopped)
2 cloves garlic (crushed)
1/4 cup white zinfandel wine
1 Large Fuji apple (chopped)
Directions
Step 1
In a large pot of boiling water, add the brussels sprouts and boil for 3-5 minutes. Drain and cover with ice. This will allow them to maintain their beautiful green color without over cooking. Once cooled, cut the little stem off and cut in half lengthwise
Step 2
Pre-heat the oven to 350 degrees. In a large skillet over medium heat, add the olive oil. Then, add the bacon, onion and garlic. Cook until fragrant. Add the wine and stir. In a baking dish sprayed with cooking spray, add the sprouts and the bacon mix. Stir. Bake in oven for 10 minutes. Remove from oven and add the apples and stir. Place back in the oven and bake an additional 10 minutes.
_______________________________________________
For complete nutrition information including Weight Watchers points, click the magic button
So how did hubby like them? He thought baked brussels sprouts were delicious!!!  I had told him that this would be amazing and would change his opinion on brussels sprouts forever. And it did. The other day, he text me while I was at work and inquired if we had leftover sprouts. He then said he never thought he would ever ask THAT question. I can't wait to make this again.
For more wonderful side dishes like baked brussels sprouts, follow my Pinterest veggie board.

Follow Lori's Culinary's board Veggies & Sides on Pinterest.


I am now in the App Store! If you have an apple device, go to your App Store, search "Lori's Culinary Creations" and download the app for free.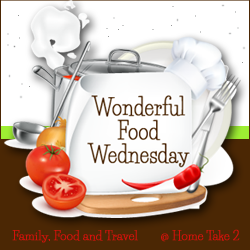 Featured on Diana Rambles Pin Me Linky Party #39 on June 28, 2013