class='shareaholic-canvas' data-app-id='15944795' data-app-id-name='post_above_content' data-app='share_buttons' data-title='Moist and Delicious Pumpkin Bread - Just in time for Fall' data-link='https://www.lorisculinarycreations.com/2012/11/pumpkin-bread-just-in-time-for-fall-html/' data-summary=''>
Can I tell you once again how much I love my grain mill? Freshly milled flour makes food taste so much better. Food is fresher and much more nutritious with fresh flour. And by using it right away, all the nutrition is still there. And I can mill only what I need when I need it.
Pumpkin Bread is so delicious and you can "mix it up" by adding walnuts, a bit of honey, raisins… the options are endless!!! Here is a recipe for a basic bread that is sure to please the whole family.
Pumpkin Bread Ingredients
1 (15 ounce) can pumpkin puree
4 eggs
1 cup vegetable oil
⅔ cup water
3 cups white sugar
3½ cups freshly milled wheat flour
2 teaspoons baking soda
1½ teaspoons salt
1 teaspoon ground cinnamon
1 teaspoon ground nutmeg
½ teaspoon ground cloves
¼ teaspoon ground ginger
Instructions
Preheat oven to 350 degrees F (175 degrees C). Grease and flour three 7×3 inch loaf pans.
In a large bowl, mix together pumpkin puree, eggs, oil, water and sugar until well blended
.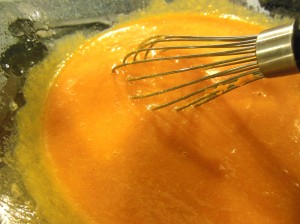 In a separate bowl, whisk together the flour, baking soda, salt, cinnamon, nutmeg, cloves and ginger.
Stir the dry ingredients into the pumpkin mixture until just blended. Pour into the prepared pans.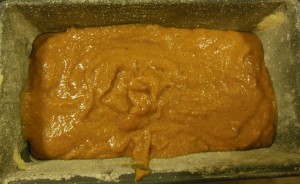 Bake for about 50 minutes in the preheated oven.
Loaves are done when toothpick inserted in center comes out clean
Check out the moistness of this bread. The flavor was amazing with just the right amounts of cinnamon and nutmeg. No spice was overpowering, the blend was perfect.